How to edit a file and save it in an archive directly
About the feature
When a document file is archived in your ZIP archive, you may open the file directly in the archive. Bandizip will extract the file to the temporary folder, and open it using an editor software (such as WordPad or MS Word) associated with the file type.
Help » How to open a file in an archive without extraction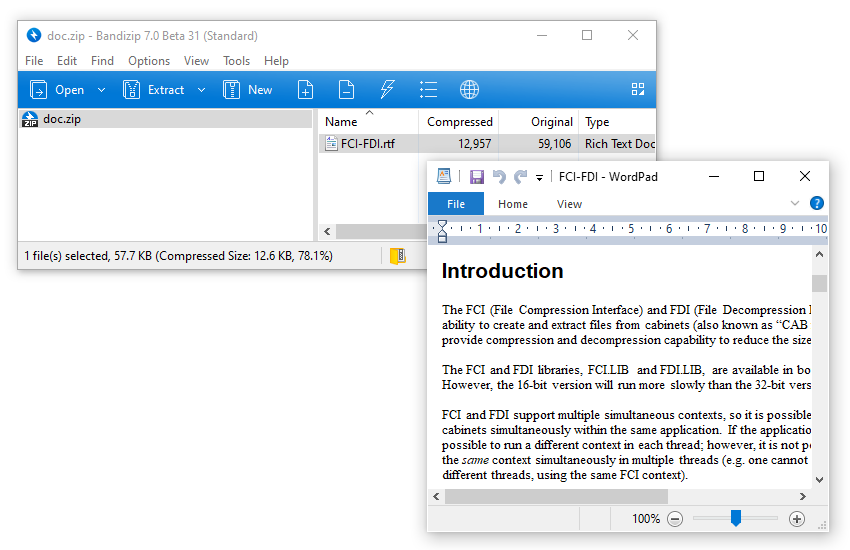 You may edit the file, save it, and exit the editor. Bandizip will detect modification of the archive's content and display the message as below.

Click Yes to save the edited file in your original archive.
NOTE
This feature works only with ZIP and ZIPX formats.
This feature works not only with document formats such as TXT and RTF, but also with DOC, DOCX, XLS, XLSX, PPT, PPTX, and other MS office's document formats.
This feature does not work if you exit Bandizip before you save the file and exit the editor software.
Some editor software may not be compatible with this feature.
CAUTION
When editing a file in your archive directly, if you use multiple windows of the editor software simultaneously, Bandizip may fail to detect the edited file and you may lose your work.
If your work is not saved in the archive properly, you may find it in the system's temporary folder.
Open C:\Users\(username)\AppData\Local\Temp (or run %temp%) and check BNZ.xxx folder for your work.
Sample
The following is the sample file used on this help's example screenshots.