Entry Point Not Found
Features of Honeycam include security to prevent any possible attack, but the feature may conflict with other antivirus software. An error "Entry Point Not Found" may occur as below if F-Secure SAFE is already active on your system.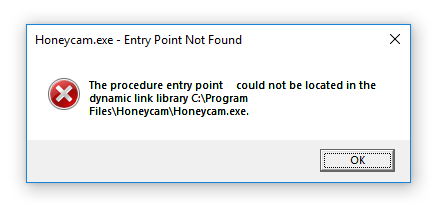 To solve the problem, exclude Honeycam from the scanning of F-Secure SAFE as follows:
Open F-Secure SAFE and on the Antivirus page, click Settings.
Under Virus Protection, click View quarantine; the App and file control opens.
Select the Excluded tab.
Click Add new and select the folder where Honeycam is installed.
(C:\Program Files\Honeycam)
Click OK.